From the City to the Lake by Hybrid Bike
Cycling sports - Cycle tourism route
An easy, short loop tour (less than 10 km) for hybrid bikes, from the city-centre to the lake.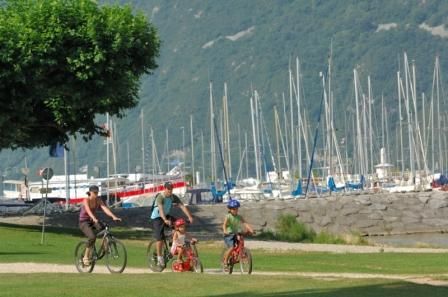 Setting off from the Place de la Mairie, head north along the rue Davat, then turn left down rue Lamartine, which will feed into into the rue Vaugelas. After 500m, at the bottom of rue Vaugelas, take the road opposite (rue des Fontaines) and follow it for approx. 1km. Opposite the Montée Rabut, turn left down an underpass below the railway, leading onto the Chemin du Reposoir.
On the other side of the underpass, cross the Avenue de Saint Simond at the traffic lights. On the opposite side of the road, turn right, and then take the next left onto Chemin de Villon. Cross this calm area, and follow the road round to the right, along the Chemin de Saint Simond. Next, turn left onto Chemin de la Baye.
A wide road begins along the left bank of the Sierroz under the flyover. Follow this road and continue straight on until you see the yellow arrows for Lac du Bourget, which will lead you to the Grand Port.
Follow the lake in a southerly direction along the esplanade until you reach the Petit Port, in order to access the aquatic centre/pool.
From the cinema, the return leg is along cycle paths, signposted for the town centre. Finally, go up the Avenue de Genève to reach the Place de la Mairie.
address

Place Maurice Mollard
BP 132
73101, Aix-les-Bains
France

opening
All year round between 8 am and 5 pm.
information
Lakeside or by stretch of water - Riverside - Town location
address

Place Maurice Mollard
BP 132
73101, Aix-les-Bains
France