Arch of Campanus
Historic patrimony - Ruins and remains
Located in front of the buildings of the old national thermal baths, the Arch of Campanus is an important testament to the rich Roman history of Aix-les-Bain. It was built by L. Pompeius Campanus to honour the departed members of his family.
Archaeologists currently believe that the L'Arc de Campanus dates from the end of the 1st century. Just above the large archway, a partially-legible inscription reads L.POMPEIUS CAMPANUS VIVUS FECIT. At the top of the archway, names have been inscribed, with carved niches above each one. We don't know anything about Lucius Pompeius Campanus, who built the monument to honour his family's dead. The arch has attracted the interest of researchers, as its position in the outskirts of the temple and its themes raises questions: is it a funeral arch, a commemorative arch or a gateway to the thermal baths?
address

Place Maurice Mollard
73100, Aix-les-Bains
France

opening
Open daily, all year round.
visit
• Unguided individual tours available permanently
• Guided individual tours on request
information
In centre of town
address

Place Maurice Mollard
73100, Aix-les-Bains
France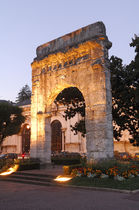 you will like also
"A bit of History" Walking Tour
An easy walking tour in town, to discover the historic heritage of Aix along the streets and alleys.
A bubble of Roman history guided tour
Gallo-Roman Aix
Immersive tour of the Gallo-Roman past of the city of Aix-les-Bains.