Côte Sauvage
On the West side of the lake, the Côte Sauvage is the most peaceful spot on the lake. With the sheer mountain drop into the water, there are only a few creeks and beaches, such as the Grotte Lamartine or the Plage des Meuniers.
Enjoy the beautiful landscape at your leisure, on a boat ride in the lake.
address

73370, La Chapelle-du-Mont-du-Chat
France

opening
All year round.
Monday to Sunday: midnight - 11:59pm.
information
Mountain view
address

73370, La Chapelle-du-Mont-du-Chat
France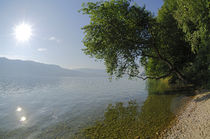 you will like also
Lamartine Grotto, the secret meeting-place for lovers
"O time, suspend your flight! and you, blessed hours,
Suspend your swift passage.
Allow us to savor the fleeting delights,
Of our most happy days!..."

It is said that Alphonse de Lamartine wrote this famous poem in this grotto
Plage des Meuniers, Côte Sauvage
On the Côte Sauvage of the lake, the Plage des Meuniers looks like a little piece of paradise with its white pebbles. Accessible only by boat, it delights boaters who come here for a swim far from the crowds...