Sailing school for children and teenagers at the CNVA
Water sports - Sailing - Catamaran
Children from the age of 4 years and teenagers, come and discover sailing on the Lac du Bourget at the CNVA sailing club with its team of state-certified instructors. Our sailing school, labelled as a French Sailing School, is affiliated with the French Sailing Federation (FFV).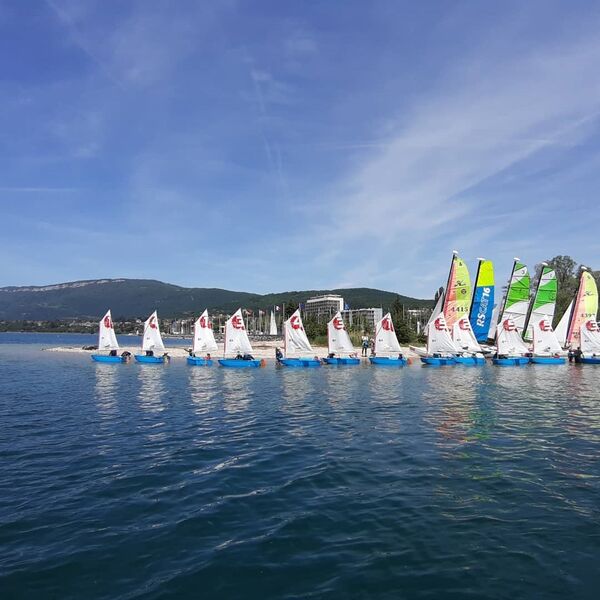 The CNVA offers sailing courses for all supervised by experienced state-certified instructors.
The 4/7 year olds practice the Optimist in limited number, ideal boat for the navigators in grass, from 9 years old discovery of the Windsurfing and beautiful sensations of gliding, and the biggest can discover the Catamaran or the Dériveur, sports media rich in emotions for its practitioners.
The CNVA also offers to combine these sailing activities with other sports through the tennis-sailing course, rowing-sailing, Cisalb-sailing or Multi sports with the course "Holidays aix'plosives" - sailing. These courses in multi activity associated with learning to sail are very complete and fun, they allow your children to live weeks of very rewarding internships.
address

Boulevard Barrier
Le Grand Port
73100, Aix-les-Bains
France

opening
From Monday 24 to Friday 28 October 2022.
Closed Saturday and Sunday.
information
Lakeside or by stretch of water - Close to a public transportation - Close to pleasure port - Thermal resort
prices
Child: 150 to 170 €.

means of payment
• Check
• Bank/credit card
• Cash
• Travellers Cheque
convenient
• Course
• Beginners' course
• Accompanied
• Water sports
• Sailing
• Catamaran
• English spoken
• Spanish spoken
• French spoken
• Italian spoken
•
• Home school groups
• Cycle 3: elementary school (CM1, CM2)
• Cycle 3: college (6th)
• High school
• Holiday Camps Home
• Children from 6 to 12 years
• Young people from 13 to 17 years old
• Teenagers
• Groups only
• Specially for children
• Groups
• From 7 years old
• Duration of the session 180 minutes
address

Boulevard Barrier
Le Grand Port
73100, Aix-les-Bains
France